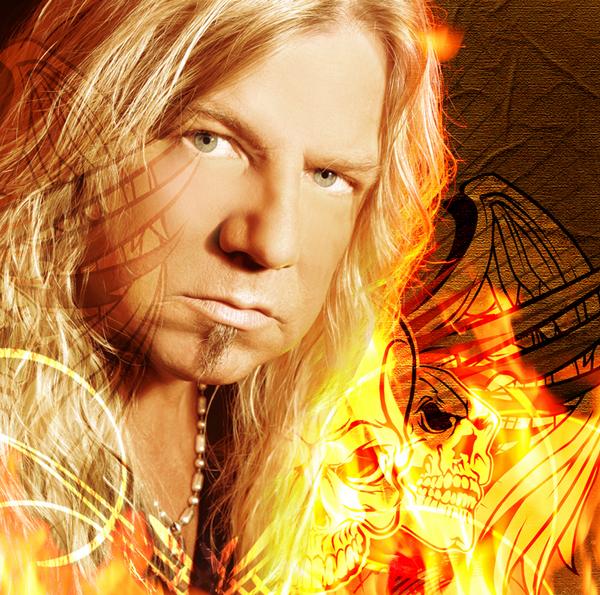 1. The last two Primal Fear albums, "New Religion" and "Seven Seals", contained a lot of orchestral sounds. How much of that carried over to "16.6"?
MAT: Not much because we have two guitar players that are absolutely outstanding, great guys, and we wanted to get back to more guitar based songs like we had on "Nuclear Fire" and "Black Sun". We wanted to be more prominent in the guitar sound on "16.6" and with Henny Woter and Magnus Karlsson it was so easy to achieve that.
I think there are only three songs that have the orchestrations. See, if Primal Fear is playing live we are a Metal band, and if you take all this orchestral stuff too far then we either have to hire a keyboard player or even a string section to make the songs sound as they should on the album. So if we took this idea too far we would have to make a decision, either go more metal or more orchestrated.
With "New Religion", we were crossing the line to somewhere we didn't want to go. So we had to go back more to where our strengths were, and with Henny back in the band as a full time member and as a songwriter, it was important to go in a more "Nuclear Fire" vibe.
2. What does the title "16.6 Before The Devil Knows Your Dead" signify?
MAT: Well we had a lot of time to work on this album and as a result we wanted to come with a creative title, a riddle, instead of something that was completely predictable, like "Riding the Eagle" for example. And every journalist in the world asked me about this title so we gave people something to thing about (laughs). The number 16.6 has something to do with the band, its not a birthday, not a release date, nothing from the bible. It has something in common with the band and people familiar with the band and this code will figure out what it means.
3. Tom Naumann played guitar on the Primal Fear debut, "Jaws of Death", "Devil's Ground", and "Seven Seals". Henny Woter is on "16.6", "New Religion", and what are my two favorites, "Nuclear Fire" and "Black Sun".
What have both guitarists brought to Primal Fear's music?
MAT: They stay fresh and have time to rest, haha…no, we never would have had Henny left after the Black Sun tour if he didn't have problems with his family. With Henny it was a real professional split, Henny is one of the most friendliest people in the business and a great guy to have on stage with you. So it was a heavy loss when Henny left and we tried to get Tom back in the band, back in shape, and give him a second chance which was very difficult for us. But Henny gave us a notice he was ready to come back to the band, record and tour with us. Henny is absolutely the Primal fear guitarist we want to play with.
As far as what Tom and Henny have brought to the music. Tom and Henny's playing are very similar, Henny is a little more diverse and his riffs are a little more complicated. But the playing is really really similar. Both are Les Paul players, both are very experienced. In my view Henny is a little more grown up and has better character.
4. Do you ever see Tom returning to the band again?
MAT: No, never.
5. Now what has your new guitarist, Magnus Karlsson, brought to Primal Fear's music?
MAT: Well Magnus at this point is not so new (to us), he has been in the band for 18 months. He toured with us for a while now and after the tour we started writing the songs for "16.6" with him. Now Magnus is from Sweden and this is a little bit of a different mentality for us, but we worked together now for over three years writing songs for other artists, so I really know his technique and he was always a Primal Fear fan. So it was nice to have his input on our music and he was great to have around during the songwriting process. Henny, Magnus, and me, spent two weeks in Magnus' studio writing twelve hours a day, very creative process and we never did this before. Magnus is a great guitarist and keyboardist, and a singer, a very competent musician.
6. Who wrote the music for the songs on "16.6"?
MAT: Henny, Magnus, and myself wrote a lot but Ralf came in later into the sessions adding some music and lyrics. So between the four of us, some more some less, we wrote the music and lyrics for the album.
7. With eight Primal Fear studio albums, what songs have become staples in the live set?
MAT: You know its not easy, but there are ones the real fans want to hear. Would you like to hear what they are? Hahaha… 'Chainbreaker' and 'Running in the Dust' from our debut, 'Final Embrace' from "Jaws of Death", 'Angel in Black' and the title track to "Nuclear Fire", 'Armageddon' from "Black Sun", 'Metal is Forever', 'Seven Seals' and 'Demons and Angels', 'Fighting the Darkness' and 'Sign of Fear' from the last album "New Religion", and then several from the new one "16.6".
8. Did you try anything different with the music on "16.6"? Because I do hear an influence from the band Disturbed on the song 'Soar'.
MAT: I think we wanted to create an interesting album. On every instrument we have a real outstanding technician and we didn't want to record an album with ten straight ahead heavy metal tracks. This is part of Primal Fear but not everything so we always want to have ambitious music inside of Primal Fear music. So if you listen to for example 'Black Rain', which has some interesting Arabic instruments that Magnus is playing, which is a little different in the groove and speeds. Then you have 'Soar' that in the beginning sounded like a typical Primal Fear track but not so exciting. But Henny and me fooled around with it in the studio before the other guys came in and at first their faces were not so promising, hahaha. But later Ralf became a fan of it.
See, I don't think Primal Fear should be so traditional that we can't do different songs like these. We need songs people really like or hate, for me its more important to have these musical differences on your album instead of ten of the same tracks. But we have some people in Europe who think a track like 'Soar' is not so good for Primal Fear, hahaha, but in the end it was absolutely the right thing to do. Some people even said they hear Korn in the middle section. Look, Disturbed and Korn are two quality acts in their field so I don't see it as a bad thing to have a hint of that sound in just one of our songs.
Like 'Hands of Time' was different for us too because its all acoustic and we thought about doing it or not, but more of the guys in the band wanted to do it than those who did not. And now the feedback from the fans and journalists has been great, we have never done a Primal fear song that was all acoustic. And what makes this really different is four guys in the band are favoring the lead vocals. Magnus starts with me singing the verse, Henny singing the bridge, and Ralf singing the chorus, its really cool.
9. Touring plans for "16.6"?
MAT: We started this weekend and will do some festival in Europe over the summer. We go to South America, back to the UK, one festival in the U.S. in Iowa, then we do some shows in the U.S. in Canada, a European tour, Japan where "16.6" is a big success, and we are also working on a longer trek in the U.S. and Canada for early 2010.
Who we tour with in the U.S. all depends on money really as always, our agency in Europe is working with an agency in the U.S. Of course it would be nice to bring a few of our friends over. Like for these European shows we are calling the package Viva Las Swabia, it's the part of Germany where we live and we are three German bands, one is Brainstorm, going all over Europe.
10. Plans to record any of the shows from the "16.6" tour for a release?
MAT: Yeah we are always taping, you need to have a camera with you. Some shows will be professionally recorded along with a couple handy cams because you never know what you are gonna end up wishing you had on tape.
11. Will you be adding any songs to the setlist that have not been performed live in a while?
MAT: Hahaha…well let's start with the classics and work out the new stuff first. Yeah, we always think of playing some different older stuff, like maybe 'Kiss of Death' or 'Red Rain' from "Nuclear Fire", but right now its really important to make these new songs from "16.6" really organic to the older songs first before we start working on an old song we never played before.
12. What was your involvement with Alex Beyrodt's Voodoo Circle?
MAT: First of all, Alex was in my band Sinner for more than ten years, so we are friends. Then, he helped out on the last Primal Fear tour as (our original guitarist) Stefan Leibing's wife had a second child and he could not go on the road. So Alex helped out and did a wonderful great job and I said "Alex if I can help you out in any way please ask".
Alex formed Voodoo Circle and was not so happy anymore with his other band Silent Force, he wanted to do his own thing. Got a great singer, David Readman from Pink Cream 69, Mel Gaynor from The Simple Minds on drums, and Alex asked me if I would do the business work for this band and play bass on the album. So that's what I did. I really like Alex's playing and David's singing and we even played five shows in Germany with the lineup that recorded the album. It was really a great experience, live…the band felt like Rainbow to me, and we even played 'Mistreated'. When we finish this Primal fear tour we will work on another Voodoo Circle album. I was interested in getting Voodoo Circle over to the ProgPower festival in Atlanta. So since Primal Fear are doing ProgPower this year maybe we can get Voodoo Circle in next time.
13. Working on any other projects?
MAT: I am actually producing ex Helloween singer Michael Kiske's new solo album. I think a lot of people will be surprised by this album, he's getting back to his hard rock roots. And even Jimmy Kresic, the keyboard player from Voodoo Circle, wrote a song with me.
Official website:
http://www.primalfear.de
http://www.myspace.com/sinnerofficial
http://www.myspace.com/voodoocircleband