Special Feature: Metal Hall of Fame Ceremony 2020
By: Jack Mangan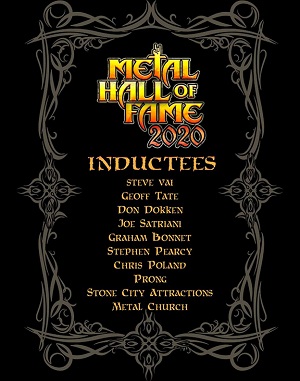 Metal Hall of Fame 2020

The Metal Hall of Fame awards gala is four years old and growing up.

I attended the very first one in 2017, when it was still called "The Hall of Heavy Metal History" - - that event was held at a tiny Conference Center in suburban Anaheim, across town from NAMM and the convention center. The 2020 event featured a much larger venue, a larger crowd, a bigger stage, and increased starpower. This time, it was held just a few blocks away from Disneyland, but on this particular January night, the Garden Grove Marriott is where the magic was happening.
The evening began with a mixed procession of show participants and random celebrities on the red carpet, including all of the evening's inductees, along with a number of other Metal luminaries and lesser names. Too many to list, but a short callout of the most memorable would include: Nita Strauss, Joe Satriani, Steve Vai, Jon-Mikl Thor (and his hammer), Geoff Tate, Jack Frost (Seven Witches, Bronx Casket Co), Stephen Pearcy (Ratt), Don Dokken, some of the guys from Metal Church, and the current lineup of Prong. The velvet rope adds touches of glamour and grandeur, but I'm sorry to see it replace the press conference of the first year. I hope that both elements can be present at future Hall of Fame events.
Following live performances by Trauma (Cliff Burton's pre-Metallica band - - killed it!) and L.A. local powerhouse, Budderside, the actual awards show began, co-hosted by Jess Fama and Metal media legend, Eddie Trunk. These kinds of events tend to bring out the egos and soapboxes, but the recipients were mostly humble, awed, grateful, concise, and quite a few were inebriated. This is the kind of thing where Trunk really shines, because he was able to provide stories and perspectives on each of the stars, from his role as our representative fanboy - - sometimes steamrollering the rough edges. The entire show wasn't on him and Ms. Fama, however; there were also a number of live music performances interspersed throughout the show.

The highlights:
-My personal favorite moment of the evening was Chris Poland and a backing band doing a medley of "The Conjuring" into "Peace Sells" with Thom Haezert on vocals. Just fucking electric.
-Modern Drummer presented a Neil Peart tribute from Carmine Appice, Cathy Rich, and Modern Drummer's Billy Amendola.
-The All-Star jam of "Paranoid," featuring Satriani, Vai, and Poland on lead guitars, and Geoff Tate on lead vocals, with Pat Gesualdo on drums.
-Prong's performance was tight, especially on their biggest hit: "Snap Your Fingers, Snap Your Neck."
-Steve Vai and Joe Satriani trading stories about hanging out as kids on Long Island, especially Satch's experience as a teenager at the Black Sabbath show at the Nassau Colliseum.
-Stephen Pearcy's 20-second acceptance speech.
-Geoff Tate just being Geoff Tate.
-The set from surprise band, Iceland, featuring killer solos from guitarist Jack Frost and drummer Pat Gesualdo.
-The post-show live music was fantastic - - featuring Jason Bittner (Overkill) on drums and a revolving cast of players and vocalists for the rest. "Painkiller" and "Creeping Death" were especially good.

The disappointments:
-"Into the Fire." Look, I'll fight anyone who disrespects the legacy of Dokken, or his worthiness of Hall of Fame induction. No one can perform their best in the aftermath of surgery, not even Don Dokken.
-Prong didn't play "Beg to Differ." OK, I know they only had time for 2 songs, but that still would have brought the house down.
-Only three of the guys in Metal Church were in attendance. Also: no songs from Metal Church.
-The long delays between awards and performances. The bands' tune-up times preceding their 1-2 song sets were patience-trying, but even after awardees wrapped up and left the podium with their trophies, there'd be long stretches of time before one of the hosts would reappear to get the show back on track. Completely killed the flow and momentum. We'd even get the house music stream during these breaks.
-It was on a Wednesday night. I realize that this scheduling allows the Metal Hall of Fame gala to coexist with NAMM weekend, but a Friday or Saturday show would bring out the bigger crowds and firepower.

Other observations:
-The show is a bit retro-focused. I found it interesting that Eddie Trunk introduced Prong as one of the newer bands among the inductees; I remember listening to them in 1989. Heavy Metal music has had its ups and downs, but has evolved and remained powerful without pause from the late 1960s to the present, and will continue to thrive into the future. Let's cherish all the pioneers and innovators across all of the genre's eras.
-The Metal Hall of Fame event took place on the same date as the Rock n' Roll Hall of Fame's announcement of their hit-or-miss list of 2020 inductees. As a result, there were a number of shots fired by different people at the Metal awards' podium, calling out the Rock n' Roll Hall of Fame for being out of touch.
-It would be interesting to see this awards show expand to be a bicoastal event, with a second ceremony to service the NYC scene.
All in all, it was an unforgettable night. My hat is off to the Metal Hall's founder and leader, Pat Gesualdo, for putting together something so powerful, important, and entertaining for the Metal community. Kudos also to MetalhornsJess and the rest of the team for all of their hard work.
We are not just Metal fans, we're a subculture, a bond, a communal, positive way of life, of connection, and of acceptance through Heavy music, in all its forms and permutations. Our heroes and icons are a part of us, even if mainstream audiences and media outlets reject and ignore us.That building in Cleveland can continue to marginalize and dismiss us all they want. Thanks to Pat Gesualdo and his army of helpers, we have our own awards ceremony to honor and legitimize our history and culture. I look forward to seeing - - and doing my own humble part through MetalAsylum.net to help - - the Metal Hall of Fame continue to grow and to include more cross-generational icons.

Photos by Jack Mangan and Lou Gorell.