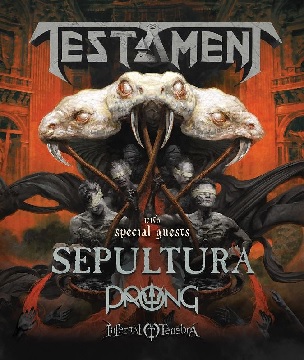 WSOU, Seton Hall College's Pirate Radio always played the three piece Prong in the early/mid 90s when rock radio started to change over playlists to the sounds of Seattle and alternative rock. The Prong debut title track "Beg to Differ", single 'Unconditional' off the followup "Prove You Wrong", and 'Snap Your Fingers, Snap Your Neck' got the heaviest rotation. Prong were one of those crossover bands like D.R.I. and early C.O.C., Suicidal tendencies, and some Faith No More. A band that just never got a break, not sure if they were good enough to be bigger? But, as an opener for such a bill they worked fine.

Been twenty years since I had any interest in Sepultura, and for several reasons. Not that I haven't given the music a try, or didn't review it. So, what's my issue? - 1 – After Max left, replacement Derrick Green's vocal and tone is even more extreme for extreme sake. He is just always gravelly and brutal. 2 – With Max gone - down a guitar player, now with Andreas Kisser handling rhythm and leads, the songs lost almost all sense of the catchy thrash/death metal riffs and twin guitar interplay from the classic first three albums. And you can forget about a sense of melody. 3 - Even with Max's brother Igor (Cavalera) still in the band until "Dante XXI" album in 2006, it still couldn't save the chemistry. Sepulture sadly became a product of the 90s/early 2000s screamo/metalcore, nu metal sound and stylings. While 'Phantom Self', off the new album "Machine Messiah', begins with some tribal drums and lead guitar, includes accents of orchestrations – the entire track suffers constant brutality in modern rhythmic groove and a typical delivery for the genre. And 'Desperate Cry' and 'Inner Self' (from their classic albums "Arise" and "Beneath The Remains"), are just not the same without the two guitar settling into that pocket for maximum crunch and punch.
I usually always try to catch Testament when they come to the Tri -State area because they are, well, always good, have new music to promote, and more often than not change up the setlist. In support of the latest album "Brotherhood Of The Snake", the title track and 'Centuries of Suffering' fire on all cylinders in contemporary form for Testament. 'Stronghold' is still aggressive but not as fast, while 'Pale King' sits right in the 80s thrash pocket with that simple memorable riff, smooth bass line, and tasty leads by Mr. Alex Skolnick. For a change, founding/original members Chuck Billy (vocals) with rhythm guitarist Eric Peterson, brought back 'Souls Of Black' - preceded by instrumental 'Urotsukidôji' where bassist Steve DiGiorgio got a little funkly , 'Electric Crown', and dusted off 'First Strike Still Deadly' from the debut. The post 80s present day sounds and approach to writing Testament style thrash was represented by the title track to "Low", and a returning 'Eyes Of Wrath" from "The Gathering". And speaking of said album, glad they dumped 'D.N.R.' and ' 3 Days in Darkness' giving other songs a chance. Closers 'Practice What You Preach' and 'Over The Wall' sent the fans home with some words of wisdom.




Testament Setlist:

Brotherhood of the Snake
Rise Up
The Pale King
Centuries of Suffering
Electric Crown
Into the Pit
Low
Throne of Thorns
Stronghold
Eyes of Wrath
First Strike Is Deadly
Urotsukidôji
Souls of Black
Seven Seals
The New Order
Practice What You Preach
Over the Wall



Sepultura Setlist:

I Am the Enemy
Phantom Self
Choke
Cry
Sworn Oath
Inner Self
Alethea
Resistant Parasites
Refuse/Resist
Ratamahatta
Roots Bloody Roots



Prong Setlist:

Beg to Differ
Unconditional
Cut and Dry
Snap Your Fingers, Snap Your Neck
Another Worldly Device
Whose Fist Is This Anyway?