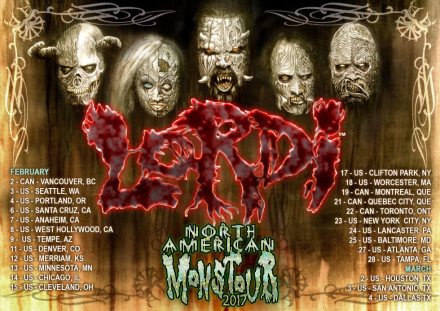 So if you are looking for the next band to take over for Alice Cooper and Rob Zombie when they retire, can't think of a better band than Finland's Lordi. They use a formula that does blend the catchiness of 80s Cooper (see those keyboards on 'Let's Go Slaughter He-Man' – with live intro by Skeletor himself) hooks, with the industrial rhythmic crunch of Zombie on tracks like 'Hug You Hardcore' and 'Bite You Like A Bulldog'. Visually, they are influenced by the exaggerated costumes of Gwar but are distinctly traditional monsters instead. Yet, they do take a page from the Gwar offensive handbook with the song 'Down With The Devil' as a priest comes on stage and attempts to exorcise (Mr.) Lordi – instead having to kneel down before the demon and simulate oral sex. So their stage show is not presented as King Diamond style horror theater, but Cooper/Zombie tongue and cheek comic book/B movie.

A short bass, drum, and keyboard solo serve as a segue before three songs, more big riffs and anthemic singles 'Hard Rock Hallelujah', 'Devil Is A Loser', to 'Icon Of Dominance' (where Mr. Lordi said was requested by fans for a while) are sung by the fans. 'Children of the Night' is the lone ballad amongst monster movie themed rockers. Encores 'Who's Your Daddy?' and 'Would You Love a Monsterman?' come off the band's successful "The Arockalypse", to where 'Hard Rock Hallelujah' won the Eurovision Song Contest 2006 for Finland. Unfortunately, another talented European band from the younger generation that only sees (at this point) a few hundred fans in (NYC) attendance, as opposed to thousands overseas. Hello America!!! When are you going to wake up out of the past and start supporting the new bands who are going to carry on hard rock and heavy metal music for the future.



Lordi setlist:
Let's Go Slaughter He-Man ( The Masters of the Universe)
Babez for Breakfast
The Riff
Bass Solo
Bite It Like a Bulldog
Icon of Dominance
Drum Solo
Hug You Hardcore
It Snows in Hell
The Children of the Night
Keyboard Solo
Down With the Devil
Blood Red Sandman
Hard Rock Hallelujah
Devil Is a Loser
Who's Your Daddy?
Would You Love a Monsterman?