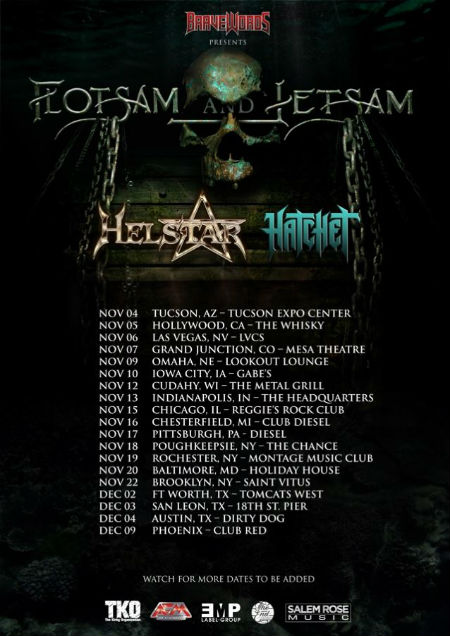 Openers Hatchet are from the new batch of 80s inspired thrashers, along the lines of Exodus, Kreator, Vio-Lence, and "Killing Is My Business" Megadeth. Not much is posted online for their setlists, but an older and more recent appears they played 'Living in Extinction', 'Fall from Grace', 'In Fear We Trust', 'The World Beyond', 'Vanishing Point'. Lots of riffing, leads, and switching up the rhythms and riffing within each song to keep things interesting preventing repetition. Out in support of their third album, "Fear Beyond Lunacy" from 2015, they have the chops and potential for success. My only issue is the voice, and is with many in the current generation of thrashers. Again, Hatchet use a voice that is snarky, but too harsh and lacks definition or melody. More singing, less gruff and the package is complete.
Helstar only had time for four songs – and if I am correct (there was no setlist on the stage), based on other abbreviated sets from this tour, tonight they played 'Baptized in Blood', 'From the Pulpit to the Pit', 'To Sleep, Per Chance to Scream', and 'Black Cathedral'. Two from the 1989 classic "Nosferatu", and two from the recent "Vampiro" album – about the most famous vampire, Dracula. Still lead by long time singer/original member, James Rivera, from their early 80s beginnings and classic albums like "Burning Star" (1984), "Remnants of War" (1986), and "A Distant Thunder" (1988), Helstar had a unique approach to making classic heavy metal that is a merging of speed and prog to create these fast and complex arrangements. And the voice – Mr. Rivera stills got it, getting low for more beastly growls, and Halford like high screams. An underrated, underground, respected institution that should have (be) a bigger household name. Time to do your homework, people.
Flotsam and Jetsam have an excellent, very consistent, thrashy self titled album out from 2016. Maybe never as big or popular as any of the Big Four, or an Overkill Kreator, or Testament, Flotsam still released two classic albums in the early 80s – "Doomsday For The Deceiver" (1986) and "No Place for Disgrace" (1988). They played a total of seven from said albums including 'Dreams of Death', 'Hard on You', 'I Live You Die', 'No Place for Disgrace', 'Hammerhead', 'Desecrator', and 'She Took an Axe'. Original singer Eric "AK" Knutson is joined by other founding member Michael Gilbert (guitars), with newest additions Steve Conley on guitar, bassist Michael Spencer, and Jason Bittner (Shadows Fall) – drums. Cuts from the new self titled album ('Seventh Seal', 'Monkey Wrench', 'Life Is A Mess', 'Iron Maiden') more than hold up to the classics. Regardless of the small venue and space on stage, with the intimate crowd close to the band it was a great exchange of music and fan interaction.
Do yourself a favor and check out the self titled album and help move Flotsam further up in the ranks of great classic thrash bands closer to being in the same sentence as the popular choices.
Flotsam setlist:
Seventh Seal
Dreams of Death
Hammerhead
Monkey Wrench
Desecrator
Me
Life Is a Mess
She Took an Axe
Hard on You
I Live You Die
Iron Maiden
Suffer the Masses
No Place for Disgrace