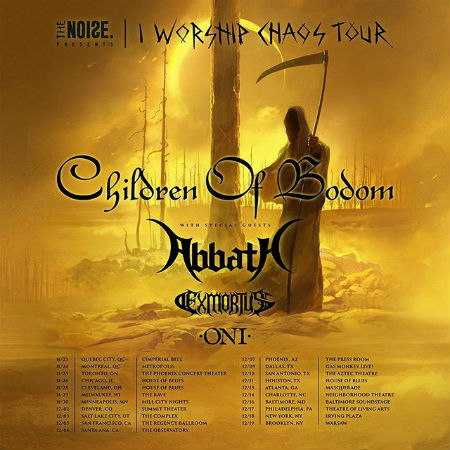 Formed in 2014, Oni released their debut "Ironshore" in 2016. Playing in the extreme prog/tech death metal family (see Between The Buried And Me), Oni offer one different ingredient – the Xylo-Synth. How does this instrument help separate Oni from others? Not much, it is a unique instrument and approach to adding a few different sounds and textures. Problem is, the music is too layered in brutal guitars and death vocal, with the juxtaposing melodic cleans. If the music wasn't so all over the map, it'd be more enjoyable, and the Xylo-Synth having a more useful purpose. Not my thing.
Exmortus released their fourth album "Ride Forth" in 2016. Musically, its death metal with thrashy riffs - very similar to Amon Amarth just much more technical. They even have the Viking/Greek/Roman/ Barbaric artwork. I think there music and abilities are great, lots of catchy riffs and loads of twin harmonies and aggressive rhythms. Problem is the voice is that growly cookie monster delivery. When the band was setting up and sound checking they jammed out on a couple Ozzy tunes so obviously they learned from the best. Clean up that voice and start signing to separate themselves from the pack, write some memorable riffs to open each song, and Exmortus will be going places. Plenty of potential, just needs refining. I mean they do a seriously crushing version of Beethoven's 'Moonlight Sonata'.
Following the departure from his day job, Immortal, guitarist/singer Abbath formed the band after his name. Abbath is really no different than Immortal – a four piece, just with more guitar leads and a couple solos. The presentation is the same – corpse paint, wicked demonic vocal, those trademark Immortal riffing and romping rhythms. As you can see from the setlist, Abbath still does a couple Immortal tunes, and their one "hit"- 'One by One', if a black metal band were to have one. I'm a fan of some Immortal, and Abbath is like I said about the same. Just after a couple songs it sounds all the same really, rhythmically becomes too repetitive.
Children Of Bodom will be celebrating 20 years next year. Wow!, cant believe they have been around, and I have been listening to them, that long. With that, maybe to warm up for the coming year, this tours setlist in support of the latest album, "I Worship Chaos", was chock full of early classics from the first three albums. Four from "Follow The Reaper" ('Children of Decadence', 'Everytime I Die', 'Follow the Reaper', 'Hate Me!'), three from "Hatebreeder" – staples 'Hate Me', 'Silent Night Bodom Night' and 'Downfall', and 'Lake Bodom' from the debut. And, the two each from the following albums ("Hatecrew Deathroll", "Are You Dead Yet?") were choice cuts The lineup is still 4/5th original members from the debut "Something Wild". Still delivered with precision and aggression, Bodom are as on fire as they were years ago when I first saw them in 2004 with Iced Earth and Evergrey.
Abbath setlist:
To War!
Nebular Ravens Winter (Immortal cover)
Warriors (I cover)
Ashes of the Damned
One by One (Immortal cover)
Tyrants (Immortal cover)
Count the Dead
Winterbane

Bodom setlist:
Needled 24/7
Follow the Reaper
Living Dead Beat
Trashed, Lost & Strung out
Morrigan
In Your Face
My Bodom (I Am the Only One)
Everytime I Die
Silent Night, Bodom Night
I Worship Chaos
Angels Don't Kill
Lake Bodom
Children of Decadence
Hate Me!
Downfall