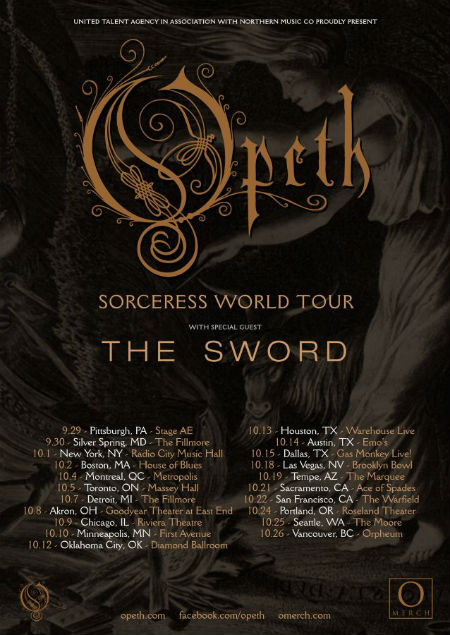 Few opener/headliner tour combinations could ever fit together as naturally as The Sword in support of Opeth. These are two of this century's pioneers and leaders in the retro-70s Metal resurgence, with The Sword at the head of the shield wall in the Stoner/Classic Doom phalanx, and Opeth carrying the banners of the Prog appreciation cavalry. It's an enviable/daunting position for The Sword to be in, preceding Mikael Akerfeldt and his mighty Opeth, but they handle it with modest verve and effectiveness. Their signature, meaty, single-note Page-like riffs drip with stank in a live setting; the songs snap and bite with a groove that exceeds what you hear on record. 'Tres Brujas' from the "Warp Riders" record was probably the highlight of their evening, but their whole performance was on fleek, as the kids say.
Opeth was another matter. An Opeth performance is like a holy experience for the faithful. With all due respect to the musicians from the band's past, this lineup is possibly their best incarnation. They play live with passion, intensity, and a technical proficiency nonpareil. As dark as the musical tone can sometimes go, Mikael Akerfeldt always brings the levity between songs with his chatty, dry wit, sharing entertaining anecdotes and effortlessly funny remarks - - not jokes - - he emphatically stressed that he does not have any jokes.
For this show, three albums into their latter-day retro-Metal-Prog era, the set list has grown markedly more mellow. Akerfeldt still rightly identified them as a metal band, but the setlist was a fascinating amalgam of the various stages of their career, drawing from their Death Metal and Melodic Death material just as much as their Prog and ballad-y stuff. The energy of the room was a fierce as ever, however. The pit was just as energized for super-noodly-Prog 'The Devil's Orchard' as it was for the lone encore track, the 16 tone, 'Deliverance'. And while Akerfeldt has eschewed the death metal growls on recent records, he has not disavowed that style for his live performances, delivering the vocals for classics such as 'Ghosts of Perdition', 'Demon of the Fall', etc. with as much raw power as his younger self. The highlights of the night were 'Ghosts of Perdition', 'Hex Omega' from the "Watershed" album, and the weird little jam they did before 'Hex Omega. . . '
You see, after finishing 'The Devil's Orchard', Mikael asked for requests, even singled out audience members to choose songs. He one time playfully responded, "No, fuck you," to someone, but the band went on to play a few jammy, clearly-unrehearsed runs of 'Windowpane', 'The Moor', and a few others, all of which cut off abruptly mid-song with devilish grins from the band. Frederik Akersson (lead guitar) was clearly enjoying himself. It felt like we were all suddenly privy to an Opeth band practice, occurring right there on stage in front of us.
The most intriguing bit from this strange little departure was a half-completed cover of 'Black Sabbath', with an Opeth-ized mod on the famous riff, and Mikael Akerfeldt performing the vocals in a theatrical, Vincent Price-esque spoken word. I think they're on to something interesting there, and they seemed to think so too. Keep an ear out for that to develop further. Note to Mr. Akerfeldt: Did you notice all of the shouts for "Blackwater Park" when you called out for requests? I think your devotees would like to humbly request that it make its way back into the Opeth set. Myself included.
One final necessary bit of praise: Opeth's light show is simple, but impressive and perfectly executed by their crew. Not something I'd noticed for any prior performance of theirs, but on this night, I was amazed at how much the lighting effects contributed to the atmosphere. Bravo. If you've never had the opportunity to see Opeth, then do what you can to rectify that. See them now, see them often.
The Sword Setlist:
Seven Sisters
The Dreamthieves
Buzzards
Maiden, Mother & Crone
Mist & Shadow
Tres Brujas
Seriously Mysterious
Empty Temples

Opeth Setlist:
Sorceress
Ghost of Perdition
Demon of the Fall
The Wilde Flowers
Face of Melinda
In My Time of Need
Will O the Wisp
Cusp of Eternity
The Drapery Falls
The Devil's Orchard
Medleys/jams, including Windowpane, The Moor, Black Sabbath (cover)
Hex Omega
Deliverance