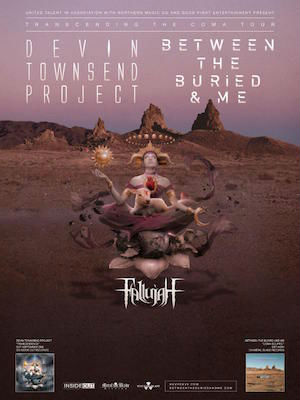 The lights dim, and shadowy figures emerge on the unlit stage. A chant of "B. T. Bam!" starts up from the crowd, Positions taken, a lone overhead white light cascades down on Between the Buried and Me's singer-founding member, Tommy Giles Rogers, Jr. at his keyboard. He begins the simple, haunting piano line for 'Node', to a hush of eager, attentive, passionate fans. The tension in the room is like the lull at the top of the first roller coaster drop, full of excited, pulse-pounding anticipation. And the following ride is everything it was meant to be: thrilling, challenging, fast, and alive.
Their current set list is a start-to-finish run of their magnificent 2015 record, "The Coma Ecliptic" - - nothing more, nothing less. This is a bold move, but BTBAM are all about the daring. With hair grown long and a beard, Rogers, Jr. looks like a cross between Jared Leto and Jim Morrison. The spotlight loves him, but it seems an unrequited love. There's not a lot of eye contact or banter from him or anyone in the band, few breaks between songs; they seem more focused on connecting with each note than they are on connecting with the audience. When Rogers, Jr. does emerge from behind his keyboard, however, which he mainly does to rock out to the screamy vocal sections, he has the crowd eating from his hand. The one time he led a clap, he was met with an exuberant response. When the pit did spin up, it was like a living thing.
Their reclusive stage presence could be mistaken by some to be aloofness, but that wasn't the vibe in the room. Watching them is really like watching master craftsmen at work. Their love and dedication for their own intricate music are infectious. The "Coma Ecliptic" album is a dense, deeply-layered piece of work, and hearing it live in its entirety truly illuminates some of its finer nuances and sections. I highly recommend catching them, on this tour, if you can.
This Between the Buried and Me tour is a co-headlining gig with the Devin Townsend Project, which is a fascinating combination of acts. While both deliver Prog-leaning, HEAVY, genius-level music, Devin's on-stage persona is a complete 180 degree shift from BTBAM. He's the Deadpool of the Metal world: hilarious, mouthy, crude, brilliant, a little nuts, indestructible, lovable, charismatic, and beyond capable. From humping the head of the stagefront security guy, to stopping the song mid-verse(!) to ask a girl in the audience what she was screaming about and proceeding to chat back-and-forth with her, to silly faces and self-deprecating cracks, he brings an overwhelming sense of fun to the room. Devin is as connected with the crowd as any performer I've ever seen.
But of course, the jokes and zaniness are only accessory to the overall experience and performance. The rich trademark sound that Townsend has honed across the decades comes across as a live, all-encompassing nebula cloud of music. The guitars and keys sound gorgeous. He complained between songs of a sore throat, but he sang and shrieked when called-for with all of the power and more that you hear on record. I was a bit disappointed that he didn't have a female vocalist on tour with him, since that's such a strong element to so much of his latter music, but the backing synths and Devin himself filled out all of those spaces nicely.
The DTP setlist was a bit odd, but at one point, Devin even pointed out the challenge of fitting such a large catalog of music into a 75-minute set. Because of this, tracks from a number of great albums were omitted entirely, including "Deconstruction" and "Ki". (No Strapping Young Lad, either, although it would have been more surprising if they'd actually been in the set.) I definitely missed songs from those records, but I was still beyond pleased overall with the music. A handful of songs from the Ziltoid albums truly stood out, as well as 'Stormbending' and the show finale, 'Higher', from DTP's latest, "Transcendence". The true highlight of the entire evening, however, was 'Kingdom', a Devin oldie that he'd recently redone with the band on "Epicloud". Every bit of the power and beauty of this song came through. It doesn't get any better than this.
A final kudos: after delivering a set that was nothing less than enchanting, Devin did the usual call-outs for the rest of his band and the other bands on the bill, he gave respect to the road crew, naming them and praising them for making the show possible.
I don't want to close without mentioning Fallujah, who kicked ass as the opening act. Their approach is bit more straight-ahead Death Metal, although with keys and some atmosphere. It's not often that the warm-up act gets the liveliest pit, but that may have been the case tonight. Alex Hofmann's vocal approach is straight-up scream, but about halfway through, they did introduce their female vocalist (apologies to her and the band; I couldn't catch her name when she was introduced), who brought some diversity.
BTBAM Setlist:
Node
The Coma Machine
Dim Ignition
Famine Wolf
King Redeem / Queen Serene
Turn on the Darkness
The Ectopic Stroll
Rapid Calm
Memory Palace
Option Oblivion
Life in Velvet

DTP Setlist:
Night
By Your Command
Failure
Rejoice
Hyperdrive
Stormbending
Where We Belong
Ziltoid Goes Homev March of the Poozers
Kingdom
Ih-Ah!
Higher