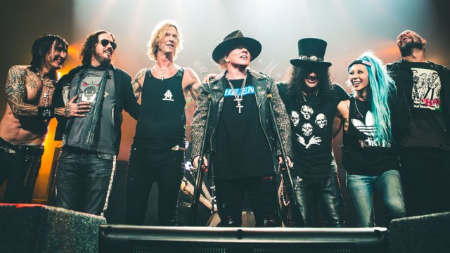 So, lets be real here…now with Slash and Duff back in the band, and Steven Adler from time to time jumping behind the drum kit for a couple songs, this is more of a reason to now call the band Guns N Roses. With all of the musicians in and out of the backing band for Axl Rose (the lone original member who carried on with the name/brand), and players on "Chinese Democracy", Axl should have been calling it the Axl Rose solo band, featuring the music of Guns N Roses. Or something to that effect. Now, with Axl, Slash on guitar, and Duff back on bass, Adler from time to time, its 3/5th original members. More proper Guns now to use the name. Don't you agree. With that, I did not bother to see all the various incarnations of GnR over these past fifteen years, until now. I found it a sham, unacceptable, like (but not nearly on the same level) Kiss putting different people in Ace and Peter's makeup…give them their own characters and makeup.
Following the intro tapes, and animated guns going off on the video screens, from the opening songs 'Its So Easy', 'Mr. Brownstone' (both off the debut album), into the title track to "Chinese Democracy", really it sounded like Axl, Slash, and Duff never stopped playing together. And the "Chinese Democracy" tunes - 'Better' is a great heavy riff driven number with moody melody -blend in with the classics from "Appetite" – was glad to hear 'Out To Get Me' back in, "Illusion 1&2" – and 'Coma'. Dizzy Reed, from the "Use Your Illusion" albums, is joined by Melissa Reese for some additional keys on ballads 'Estranged', 'This I Love', while the grand piano is wheeled out for Axl to play the epic ballad 'November Rain'. And going right into 'Knocking on Heaven's door' is a pretty big one-two punch of hits.
Speaking of Axl, more often than not he sounded pretty darn good. His voice is raspy and unique to begin with, but yeah there were at times I heard him a little off, not as strong. Maybe if they shaved off a couple songs would help and not much strain on his voice. If it's not enough in 'Civil War' Slash gets to show his stuff, 'Love Theme from the Godfather' is soon up, and he does rip it up again, but plays with purpose, melody, and spot on, nothing sloppy or wanking off with this guy.
Throughout the entire show plenty of lights from above and on the risers, with a few explosions from time to time, various images and artwork shown on the giant video screens. The grand finale during 'Paradise City' included a fireworks display too. Over the course of 24 songs, it is a long show, over two hours, but definitely worth the price of a ticket, depending how much you spent. I found the show a bit long, maybe could have cut back on the solos, the two other covers ('New Rose, 'The Seeker'), maybe shave off a song or two, for a solid two hours.
Guns Setlist:
It's So Easy
Mr. Brownstone
Chinese Democracy
Welcome to the Jungle
Double Talkin' Jive
Estranged
Live and Let Die (Wings cover)
Rocket Queen
You Could Be Mine
New Rose (The Damned cover)
This I Love
Civil War
Coma
Love Theme from the Godfather (Nino Rota cover) (instrumental, Slash guitar solo)
Sweet Child O' Mine
Better
Out Ta Get Me
Wish You Were Here (Pink Floyd cover) (Slash & Richard Fortus Guitar Duet)
November Rain
Knockin' on Heaven's Door (Bob Dylan cover)
Nightrain
Don't Cry
The Seeker (The Who cover)
Paradise City