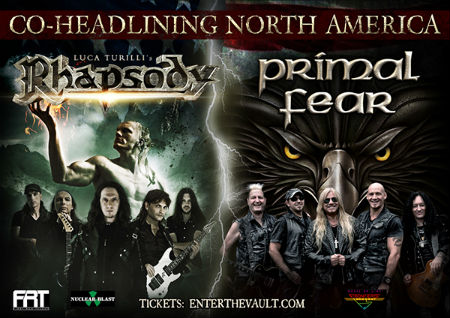 So we have two Great Whites, two LA Guns, Queensryche and Geoff Tate's Operation Mindcrime (really, dude, that name?), several versions of Ratt, LOL, …and now Rhapsody (of Fire) splintered off to a fairly new (2011), Luca Turilli's Rhapsody. I really don't see the purpose as both bands use the same formula and sound virtually the same, right down to the singers. Only difference is Luca considers his version "cinematic" metal, as opposed to Rhapsody (of Fire) being symphonic. Same shit, Lol. Anyway…first time touring America with his band, and only two albums in, Luca's Rhapsody obviously would play a set heavy on the classic Rhapsody songs. And they should, because Luca wrote many of them.
'Knightrider of Doom', off what I think is if not, one of their best albums – "Power of the Dragonflame", opened the set followed by 'Rosenkreuz' from the latest opus "Prometheus, Symphonia Ignis Divinus". Luca clearly hammed it up, taking center stage any chance he could muscling out the rest of the band, posing while playing leads and solos, noodling and kenoodling. Musically…this version of Rhapsody is a little too bloated and over the top, but take that away and listen to Alessandro Conti's voice and its more enjoyable. And really, a drum, bass, and guitar solo when they is so much playing and showing off in the songs to begin with? Just too much, and live every song sounded like the last one, aside from say the closing Rhapsody classics 'Dawn Of Victory' and 'Emerald Sword' to which verses lead to the memorable triumphant chorus.
Primal Fear, one of the saviors (with Hammerfall) from the late 90s of that classic heavy metal sound and style, released their 11th album, "Rulebreaker", this year. Bassist Mat Sinner and singer Ralf Scheepers still standing from the band's birth, are joined (again) by guitarist Tom Naumann, and Alex Beyrodt, with Francesco Jovino the most recent recruit on drums. Tried and true to form, 'Final Embrace' (off the second album "Jaws Of Death"), to newer (potential?) anthem 'In Metal We Trust', and another live staple 'Angel In Black' is the Fear's one-two-three opening punch of Judas Priest fashioned Euro Power Metal. I mean, really, if you have yet to discover this band and their importance of carrying on the legacy of Priest's music for the present and future, you are surely either deaf, in denial, or just stuck in the past.
Scheepers is clearly the 'Rulebreaker' with those biceps as he throws a fist and mic in the air while belting out the empowering verses and chorus about being an individual. Sinner, Beyrodt, and Tom fill in the front line dressed like rock stars holding down tight riffs and melodies for Ralf to sing atop…see ballad 'The Sky Is Burning'. With five new songs in the set show they don't fear, and are confident, the newer material amongst their back catalogue. If you know this band, 'Chainbreaker' and 'Metal Is Forever' are standards and classics to close out the set, with 'Rollercoaster' dusted off for the encore, and the o so groovy 'Running In The Dust'. But, again, why don't we get anything from the album "Black Sun" – title track, 'Armageddon', 'Fear', or 'Cold Day in Hell'? Damn, its like the third time that album got ignored!
Rhapsody Setlist:
Knightrider of Doom (Rhapsody cover)
Rosenkreuz (The Rose and the Cross)
Unholy Warcry (Rhapsody cover)
Son of Pain (Rhapsody of Fire cover)
Prometheus
Drum Solo (Game of Thrones Theme)
Il cigno nero
Guitar Solo
The Pride of the Tyrant (Rhapsody cover)
Demonheart
Bass Solo
Dark Fate of Atlantis
Dawn of Victory (Rhapsody cover)
Tape - Quantum X
Emerald Sword (Rhapsody cover)

Primal Fear Setlist:
Final Embrace
In Metal We Trust
Angel in Blackv Rulebreaker
Sign of Fear
The Sky Is Burning
Nuclear Fire
Angels of Mercy
The End Is Near
When Death Comes Knocking
Chainbreaker
Metal Is Forever
Rollercoaster
Running In The Dust