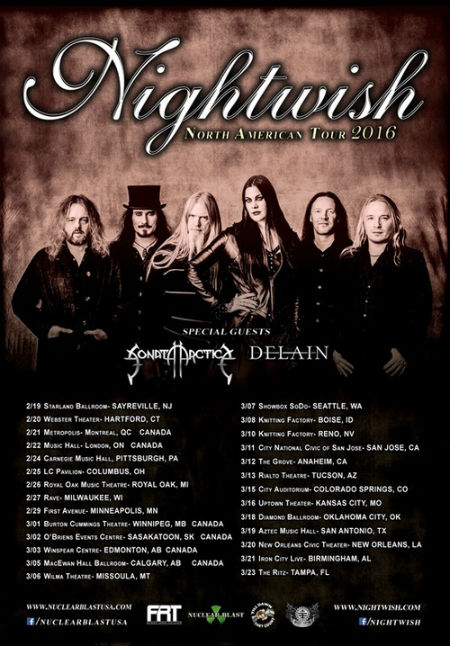 So apparently Nightwish's 2015 headlining tour (with Sabaton and Delain), was a huge success, returning within a year for another round of dates in support of the latest album "Endless Forms Most Beautiful". Playing in New York city last year was a smart stop on the tour to bring in as many fans as possible from the tri-state area. Now, in Jersey (Slayerville county), was the ultimate test to see how symphonic power metal is doing in America. Well, if a 75% filled Starland at 8 o'clock for the opener is any indication, then the new generation has arrived.
Delain serve as a fitting Dutch symphonic metal with an equally attractive female singer who's looks will surely catch the guy's eyes as much as her voice. Already having many fans on the east coast as the crowd sang along - 'Suckerpunch', off their "Lunar Prelude" E.p. , 'Get the Devil Out of Me' (from 2012's "We Are the Others"), and 'Army Of Dolls' kicked off the night on the right foot. Delain's rhythmic guitar driven, keyboard complimenting, power packed songs kept the crowd interested and engaged till the last song.
While their set began with 'The Wolves Die Young', from the 2014 album "Pariah's Child", Finnish power metallers Sonata Arctica also continues the celebration of their 1999 debut "Ecliptica" and 2014 're-recording for its 15th anniversary, playing 'Full Moon', '8th Commandment', and 'My Land' tonight. Firey red haired singer Tony Kakko (one of two original members left), serenades the ladies during ballad 'Last Drop Falls' from their better strong second album "Silence". Long time keyboardist Henrik Klingenberg (2002-) lays down the melody line in 'I Have a Right', and Tommy Portimo (drums) is the driving force behind one of their most popular songs ''Don't Say A Word' from the solid 2004 album "Reckoning Night". Still going strong in 2016, with eight studio albums, a couple live, two DVDs, several singles, B-sides, E.p.s, for fans of Stratovarius, Sonata are worthy successors to their throne.
Nightwish, also from Finland, continue to dominate the European metal scene with the winning formula of meshing power and symphonic (keyboard based) metal. Tuomas Holopainen (keyboard/composer, guitarist Emppu Vuorinen, with long time bassist Marco Hietala remain the core and heart of the band, now joined by third singer Floor Jansen, Kai Hahto – drums, and Troy Donockley (uilleann pipes, bodhran, bouzouki). Pretty sure Nightwish played to if not a sold out crowd, it was packed in NYC, the Starland was sold out. Good old fashioned word of mouth, social media, has spread about these great European bands, regardless of no support from major market radio, TV, festival tours, in America. The band sounded great, and Floor carries herself strong and classy as always, handles and interprets Tarja and Anette more than satisfactory, projects like a diva while appreciative of her audience.
Tonight's set, and looks like for the tour, is almost identical to last years with a couple changes. Title track from the latest album has been dropped, added is ballad 'While Your Lips Are Still Red', a 2007 song written by Tuomas and Marco Hietala for the Finnish film Lieksa, sung by Marco. '7 Days to the Wolves' also added, from the album "Dark Passion Play". 'Ever Dream', 'She Is My Sin', dusted off 'Stargazers' (from "Oceanborn" album), 'Ghost Love Score', and single 'Nemo' the only classics from the Tarja (first singer) period. Again, it was heavy on newer songs, so it would be good to hear a couple more from the past to balance it out.
Looking forward to Nightwish's return, hoping with a couple more European bands. In recent years, it's been great to see successful packages like what Nighwish has brought, Blind Guardian with Grave Digger, Kamelot and Dragonforce (even though I'm not a fan), Iced Earth, Helloween, and this spring's Primal Fear/Luca Turilli's Rhapsody package, and Avantasia.
Nightwish setlist:
Shudder Before the Beautiful
Yours Is an Empty Hope
Ever Dream
She Is My Sin
My Walden
While Your Lips Are Still Red
Élan
Weak Fantasy
7 Days to the Wolves
Storytime
I Want My Tears Back
Nemo
Stargazers
Ghost Love Score
Last Ride of the Day
The Greatest Show on Earth (Chapter II, Chapter III)

Sonata Arctica setlist:
The Wolves Die Young
My Land
8th Commandment
Last Drop Falls
FullMoon
I Have a Right
Don't Say a Word

Delain setlist:
Suckerpunchv Get the Devil Out of Me
Army of Dolls
Sleepwalkers Dream
We Are the Others
Don't Let Go
Not Enough