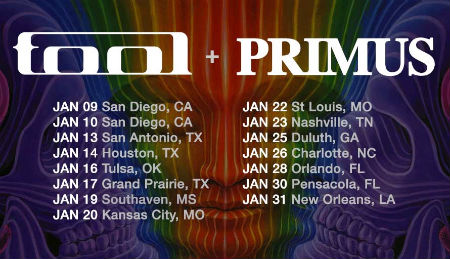 Tool and Primus make strange co-headliner bedfellows as it is. Their opening band brought even more diversity to the bill: a Ministry/Godflesh/Bile throwback called 3Teeth. Lots of noise and attitude; their industrial stuff was actually much stronger than their Metal-ish material.
We caught Primus in a whimsical mood, apparently. It was gig two of a two-night stand, so they tossed the tour's usual setlist, which is full of their most well-known songs, and instead dug out a selection of deep cuts, with some of those stretched out to extended jams. As a Primus fan, it was great to hear obscure gems like 'Too Many Puppies' and 'Southbound Pachyderm', but I can see where casual attendees would be frustrated. Les Claypool is one of the premiere bass-players in the world, but his stage presence and style remained subdued; we got more flash from his bandmates than him. Primus closed with 'Jerry Was a Racecar Driver', which was the only repeat from their standard set for this tour. It was a short set; they were really more of a warm-up act than a co-headliner.
Tool stuck a bit more to the script, with Maynard Keenan rooted in placed throughout the entire set on an unlit platform next to the drum riser. He kept the banter to a few pithy remarks between songs. He told the San Diego crowd that it sounded like L.A. in the arena, drawing heavy boos. Both bands utilized the screens, with Tool expanding a bit on the displays, showing macabre animations and FX-laden live action videos of darkly twisted altered human forms. They also utilized old-school lighting displays well. The song selection was good, with 'Opiate', 'Forty-Six and Two', and 'Aenima' as the highlights. Their opening song is better in theory than in practice, but still pretty damn good: a down-tuned explorative interpretation of Led Zeppelin's 'No Quarter'. It's a brilliant, brooding tune to cover, well-suited to Maynard's voice, but also an interesting beginning, as the slow, moody atmosphere of the track acts as a deflator for the Tool audience's anticipation frenzy. It sounds like they're jamming and still tinkering with the song, so I'd like to hear how it has evolved, towards the end of the tour. One nice touch: having a countdown ticking away onscreen between the "final" song and the start of the encore.
I walked away feeling mildly curious to hear 3Teeth's recorded industrial tracks, satisfied that I'd seen Tool, and eager to see Primus again.
Setlists

3Teeth:
Nihil
X-Day
Final Product
Dust
Chasm
Pearls 2 Swine
Dissolve
Master of Decay

Primus:
Too Many Puppies
Here Come the Bastards
Groundhog's Day
Southbound Pachyderm
Jilly's on Smack
Nature Boy
Jerry Was a Race Car Driver

Tool:
No Quarter (Led Zeppelin)
The Grudge
Parabol
Parabola
Schism
Opiate
Ænema
Descending
Jambi
Forty-Six & 2
(Intermission)
Drum Solo
Sweat
Stinkfist