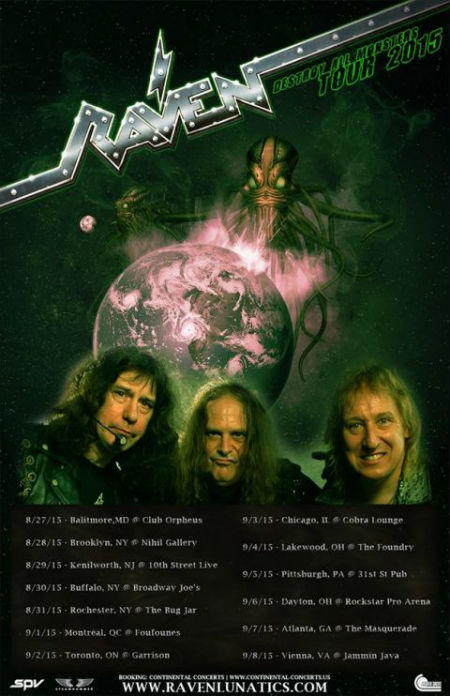 Out of Newcastle, England, Raven are one of the most important Heavy Metal foundation building blocks from the New Wave of British Heavy Metal movement in the early 80s. Just with their debut "Rock Until You Drop" in 1981, "Wiped Out" in 82 they gained a strong fanbase. By the time the landmark album "All For One" was released in 1983, they toured America, with Metallica opening for them on the "Kill 'em All For One" tour. That's the kind of impact Raven made. Since then, Raven have continued to tour the world, releasing thirteen studio albums.
After thirty five years in the music business, the brothers John (bass/vocals) and Mark Gallagher on guitar, drummer Joe Hasselvander (since "Nothing Exceeds Like Excess" album) show no signs of slowing down. Whether they are playing to four, four hundred, four thousand, or forty thousand people at a European festival, Raven deliver the same balls-out energy they are known for, and it was no different tonight at this small bar in suburban Union county.
Having released earlier this year a new album, "Extermination", which is as good as any one of their classic first three albums, new tunes 'Destroy All Monsters', 'Tank Treads (The Blood Runs Red)', and 'It's Not What You Got' hold up to the classics. Speaking of…still wearing the headgear mic allows John to be even more mobile on stage, rallying the crowd to singalong to 'Hard Ride', title track to "Rock Until You Drop" and "All For One". As with several of their early standards, 'Mind Over Metal', 'Break The Chain', in their simplicity is pure genius fist pounding headbanging anthemic metal. I'm sure you remember their MTV hit 'On And On'? Well, you should. "Wiped Out" was represented by 'Live At The Inferno' and 'Faster Than the Speed of Light', and Mark (catchers knee pads and all) showed his stuff during 'Don't Need Your Money' (riff) / 'Stay Hard'. A fitting dramatic build for 'Into the Jaws of Death' makes the riff, pacing and punch hit all the more hard, and with three cover tunes by Sabbath, The Who, and Priest sandwiched between 'Break The Chain' kept the crowd energized and engaged right till the end.
Setlist:
Destroy All Monsters
Hard Ride
Live at the Inferno
All for One
Don't Need Your Money (riff) / Stay Hard (snippet)
Rock Until You Drop
Mind Over Metal
Speed of the Reflex
Into the Jaws of Death
Tank Treads (The Blood Runs Red)
It's Not What You Got
Faster Than the Speed of Light
On and On
Bass Solo
Break the Chain / War Pigs / Won't Get Fooled Again / Symptom of the Universe / Genocide / Break the Chain
Pre-show Interview with John:
1. How has the new album "Extermination" been doing since its release earlier this year in 2015"
JOHN: Its doing really good. We are happy with it, so are the critics, and the fans. I think everyone understood what we did with it. Our last album "Walk Through Fire" was solid, but this is a bit better. You can't really go by album sales anymore, but the album has been selling, both on and off the road, and so has our merch on tour. That's really what a lot of a band's income comes from nowadays.
2. Did you play any of the European summer festivals this year?
JOHN: No, unfortunately because we changed agents, and you really need a year to plan and set those shows up. And we were busy doing the new album. So we will do the festivals next summer. Those festivals are so great, run so professionally, and you get to play to thousands of people at a time. It's a great time and a win win for everybody. You play Hellfest, or Bang Your Head, or Wacken, you can't lose.
3. There have been several tours in the past year, where two known name bands have buddied up, like Nightwish and Sabaton, Blind Guardian and Grave Digger will be in America this fall. Has Raven been offered something like this in the U.S.?
JOHN: No, not this year. There are actually a few bands who I should knock on their door about that. It would advantageous, but in the same token we aren't going to sit home and wait for an offer. We have a new record out that the fans want to hear and we are going to play for them.
4. The Raven albums aren't the easiest to get in America. Many are out of print or on import. Any plans to reissue part, or all of, the back catalogue?
JOHN: "Walk Through Fire" and "Extermination" are available. The first three are owned by BMG at this point so they may be reissued, again. The stuff on Atlantic, Tower in Japan just reissued those. "Nothing Exceeds Excess" is owned by Sony, SPV have "Architect", and we own the rest after that.
5. Plans to record any release a live show professionally recorded?
JOHN: We have nothing as far as a full show that was pro shot. Its something we need to take care of, hopefully we can to that kind of taping at one of the European festivals. But we do have a few songs that were pro shot on the Rock Until You Drop - A Long Day's Journey DVD.
6. When you prepare a setlist, do you try and include maybe one song from each album?
JOHN: No, that's really difficult, especially when you have several classics, and newer songs, to play. But eventually we will and do visit those songs not often played. Like we do go back to "The Pack Is Back", there are a couple good ones from that album that come across well live. We have a B list we often pick from.
7. What newer, younger bands do you like?
JOHN: Good question, often there is not much I like. Sometimes I don't like the production values…I heard the new Fear Factory but all I am hearing is guitar and kick drum, that's not drums. I'm very old school like that, you wanna hear real drums, like on our new album. We play as a live band, no click tracks. I like Rival Sons, they are kinda a throwback. But we have also been checking out some older bands live, like Slayer, King Diamond, Down, Yes and Toto tour. Younger bands, I like Night Demon, Cauldron, Graveyard, Evile, Radio Moscow. I do hear many of these younger thrash bands borrowing from Metallica, Anthrax, etc, but often doesn't mean its good.
8. Any good road stories in recent years?
JOHN: If I told ya, I'd have to kill ya, hahaha. Umm, not too many, often it involves someone getting locked in a hotel room or something, haha. We were in Bogota in a hotel, I'm on the computer and it starts fluttering…a 6.2 earthquake hits, had to evacuate the hotel, that was scary. The night before like a tornado came through…they blamed it all on us, hahaha.
9. Do you ever cross paths with the bands who opened for Raven in the early 80s, like Metallica?
JOHN: Yeah, we actually opened for them in Brazil to like 70,000 people. It was incredible. Got to hang with the guys for a few minutes too.
10. Aside from Metallica, who else opened up for Raven before they went on to become successful themselves?
JOHN: Anthrax, TT Quick, but in a related story…we played Germany back in 83, and in the crowd, come to find this out years later… were the guys in Sodom, Kreator, Destruction, Coroner, Doro she was there. So we influenced the German bands as well.
11. Anything you'd like to add?
JOHN: Thanks to the fans for buying the album, coming out to the shows. Check out our "Party Killers" covers album which we gave to those who contributed to the Kickstarter program for "Extermination".
Official website: http://www.ravenlunatics.com