Nice double bill of German heavy metal for American metalheads who rarely get to see European talents on these shores, but Swallow The Sun (from Finland) were really the odd man out. Swallow are a different (extreme) listen for most in the US, and especially those use to the classic sounds of Accept and thrash of Kreator. Regardless, Swallow were a good contrast, more extreme (melodic death/black doom), reminding me of Emperor at times, and can be very dynamic given the track. Check out 'Cathedral Walls' (which was played) from the latest album "Emerald Forest and the Blackbird", an (almost) acoustic/piano based ballad with strings and a clean male/ female duet. Good stuff.

Accept were next, co-headliner playing four from their latest success, "Stalingrad", the very classically Accept rhythm/riff/ melody line charged title track, 'Hung Drawn and Quartered', 'Shadow Soldiers', and one of my favorites, 'Hellfire'. Long time members Wolf Hoffmann and Herman Frank (Guitar), bassist Peter Baltes, Stefan Schwarzmann (Drums), are still joined by more than the more than competent Udo replacement Mark Tornillo (his second album with Accept). Three were included from the last album "Blood Of The Nations" (first with Mark), 'Teutonic Terror', 'Pandemic', and headcrusher 'Bucket Full of Hate', leaving room for eight classics. Nice mix of old and new tunes and they have been doing this since Accept became reactivated with Mark Singing in 2009. 'Metal Heart', 'Fast As A Shark', 'Restless and Wild', and "Balls To The Walls' are a given, so nice to hear 'Up To The Limit', 'Losers And Winners' is usually in and out of the set, same with 'Breaker'. Next time, I'd like to hear a couple from the 90s albums ("Objection Overruled", "Death Row", "Predator"), and definitely 'XTC' from "Eat The Heat". And not only were Accept tight as shit as always, but their mix was sick…clean, heavy, guitars were crunchy, vocals right up front, everything was well balanced and easily heard. One of the best sounding concerts I've ever heard.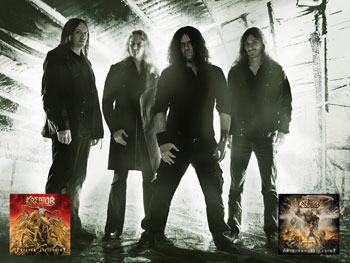 Kreator have made a nice comeback in the US doing rather consistent touring since the album "Enemy Of God" in 2005. American thrashers Metallica, Megadeth, Anthrax, Slayer, Exodus, Overkill, Testament, have always been successful in their own backyards, the Germans (Sodom, Destruction, Tankard, and even Annihilator from Canada) not so much, never really gaining an audience (unfortunately), but Kreator have. Out supporting their latest album, "Phantom Antichrist", Mille (Petrozza – Guitar, vocals) and the boys included the title track, 'From Flood Into Fire', 'Death To The World', and 'Civilization Collapse', also hitting on the last two albums which sold in the States, the title tracks to "Enemy Of God" ('Voices Of The Dead'), and "Hordes Of Chaos". Kreator classics 'Extreme Aggression', 'People of the Lie' (with part of 'Coma'), 'Endless Pain' and 'Pleasure To Kill' all sprinkled in with 'Betrayer', 'Flag of Hate', and 'Tormentor' (two of the three off the debut "Endless Pain") closing things out. Kreator brought a bigger production than Accept, including a larger riser for the drum kit and a mic stage right for Mille to sing at, but not as a good a sound man. Sound was just too loud, fuzzy at times, unbalanced, instruments going in and out, it got a little better as the show went on, but not even close to Accept.
Swallow The Sun setlist:
Emerald Forest and the Blackbird
Hate, Lead the Way!
Psychopath's Lair
Cathedral Walls
Swallow (Horror Pt. 1)

Kreator setlist:
Phantom Antichrist
From Flood Into Fire
Enemy of God
Phobia
Hordes of Chaos
Civilization Collapse
Voices of the Dead
Extreme Aggression
People of the Lie
Death to the World
Endless Pain
Pleasure to Kill
Violent Revolution
Betrayer
Flag of Hate
Tormentor

Accept setlist:
Hung, Drawn and Quartered
Hellfire
Restless and Wild
Losers and Winners
Stalingrad
Shadow Soldiers
Pandemic
Breaker
Bucket Full of Hate
Princess of the Dawn
Up to the Limit
Teutonic Terror
Metal Heart
Fast as a Shark
Balls to the Wall