AC/DC/ Anvil/ The Answer

Venue: Giants Stadium in East Rutherford, NJ
Date: 7/31/09
Reviewed By: Kevin Alba
On an extremely rainy day in New Jersey this rock n roll/heavy metal package rolled on into Giants Stadium for what was sure to be a great night of live music…and that it was. Shortly before show time the rain came to a stop and the skies cleared up which would make my first AC/DC live experience that much better.
The evening opened up with The Answer, a rock n roll band from Northern Ireland. The seats were not very filled yet as the majority of the fans were still in the parking lot getting loaded but I gave them the time of day and thought that they were pretty good. For a modern day rock band they have little in common with other rock artists of today as their music gave off a 70's rock vibe bringing to mind early AC/DC as well as Led Zeppelin and some more bluesy numbers reminded me of old Aerosmith. The Answer were a pretty tight sounding band who I would not mind looking into.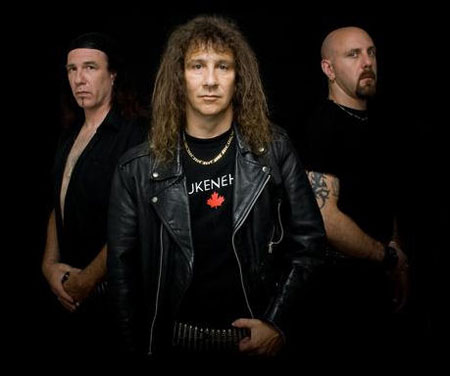 Anvil followed and have become one of Heavy Metal's biggest success story as of late due to their documentary "Anvil! The Story of Anvil". Word actually has it that when Angus of AC/DC saw the documentary, he was so blown away that it was his idea to invite Anvil out as their special guests. Given the sizeable buzz going around lately about Anvil a lot of people in attendance seemed to know of their existence. The crowd response must have been overwhelming for the guys who for the past twenty years have played to crowds of less than 100 people and in some cases less than 50. Tonight Anvil received a warm reception. The Canadian trio played a very solid set featuring all classics from the band's past although I was surprised not to hear anything off "This is Thirteen", their 2007 album which was getting re-released in America several weeks after the show.
I've always known of Anvil and while was never a huge fan (though I think the first three albums "Hard N Heavy"", "Metal On Metal", and "Forged In Fire" are very good and important pieces of Heavy Metal history), I am very happy founding members Steve "Lips" Kudlow (vocals, guitar) and drummer Robb Reiner are finally getting some notoriety on a larger scale and getting to tour with the likes of AC/DC… Good for them!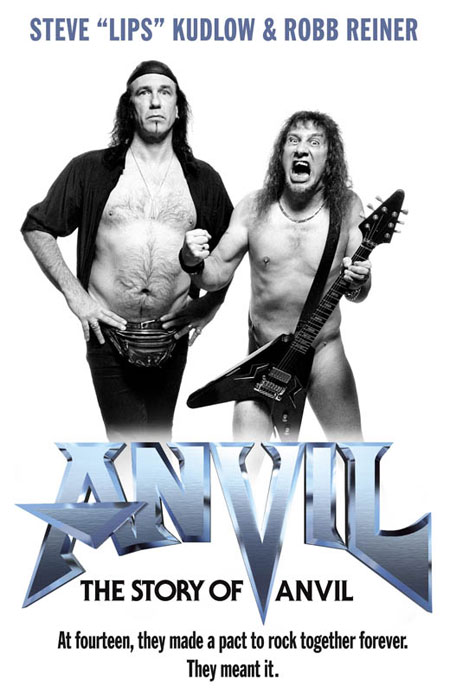 Anvil Setlist:

March of the Crabs
Mothra
666
School Love
Winged Assassins
Race Against Time
White Rhino
Metal of Metal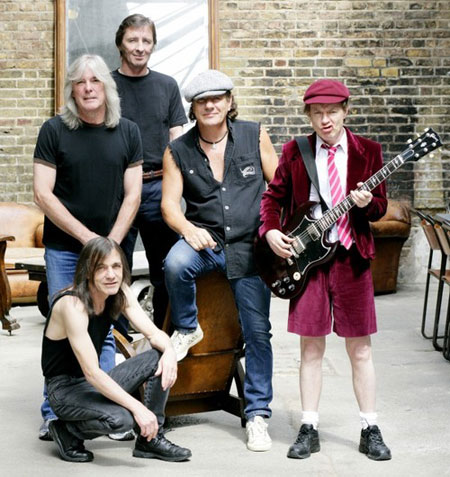 My adrenaline was running high as I was about to see one of my all time favorite bands perform live for the first time. With the opening licks to 'Rock n Roll Train' I truly feel like I was run over by a train as the powerhouse known as AC/DC could have very well prematurely knocked Giants Stadium to the ground (the stadium will be history after this football season). From start to finish these guys put on one of the most energetic shows I have ever seen in my life. Playing for over two and a half hours I couldn't help but shake my head at some of today's younger bands who play a little over an hour and are then finished for the night.
Although the classics in the set were fantastic I was especially blown away by the new stuff and was happy that five songs were represented off of last year's Wal Mart exclusive release "Black Ice" with 'War Machine' sounding especially heavy. There was no shortage of pyro throughout the night keeping the audience on its toes who sang along the entire night. Thousands of people were wearing Angus's red light up horns on their head which was very cool to see looking around the stadium. 'Whole Lotta Rosie' stayed true to its name as there was a humungous blow up version of Rosie on stage rockin back and forth while the band played. When Angus took over the stage to play an extended guitar solo, the camera was zooming in on his fingers and you can see that from working his fingers the entire side of his hand was a bright red color. Shows just how hard he was playing for his fans. I could actually feel the pain as he shredded away. Brian Johnson sounded great on the mic as did the rest of the band playing an extremely tight and perfect set. Would love to see these guys again! After ending with 'For Those About To Rock' a huge firework display was set off and walking back to the car you can see the smoke filling the sky from what was one hot concert!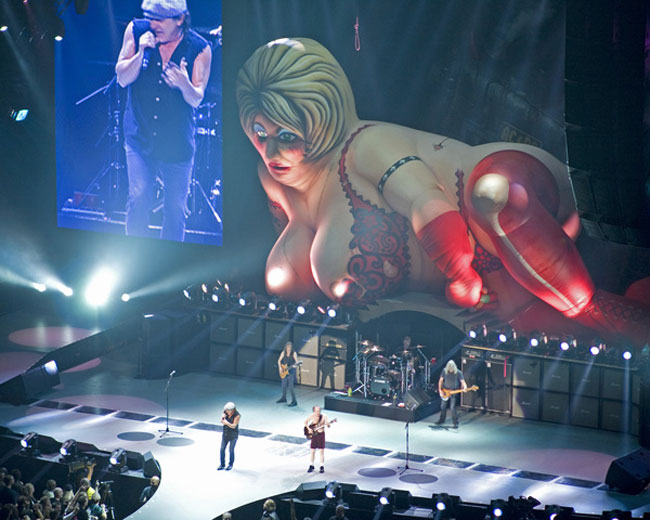 AC/DC Setlist:

Rock N Roll Train
Hell Ain't a Bad Place To Be
Back In Black
Big Jack
Dirty Deeds Done Dirt Cheap
Shot Down In Flames
Thunderstruck
Black Ice
The Jack
Hells Bells
Shoot To Thrill
War Machine
Dog Eat Dog
Anything Goes
You Shook Me All Night Long
TNT
Whole Lotta Rosie
Let There Be Rock
Encore:
Highway To Hell
For Those About To Rock (We Salute You)