Whitesnake
David Coverdale and his current band of whitesnakes (still showcasing the six string talents of Reb Beach and Doug Aldrich), continue touring in support of their new cd "Good To Be Bad", playing from it the single/video 'Lay Down Your Love'.
Tonight's setlist (and probably for the rest of the U.S. tour) unfortunately was void of any material pre "Slide It In" album, focusing solely on songs that were hits in America from the 80s. 'Love Ain't No Stranger', 'Slow and Easy' from 'Slide', six from the 87 self titled hit album including of course ballad 'Is This Love', 'Give Me All Your Love', and 'Still Of The Night'.
For those interested in doing their homework; 'Fool For Your Lovin' which is commonly associated with the album "Slip of the Tongue" is a rerecording originally on the album "Ready and Willing", 'Crying in the Rain' and 'Here I Go Again' found on the album "Saints and Sinners" from 1982.
Performance wise its all about Snake's meaty heavy bluesy rock riffs and hearing Doug and Reb together is a real treat (although tonight's guitar duel could have been shorter). Having seen this latest incarnation of Whitesnake several times I can say Coverdale always performs to the audience and belts out strong vocals but tonight he seemed to struggle a bit in his raspier delivery.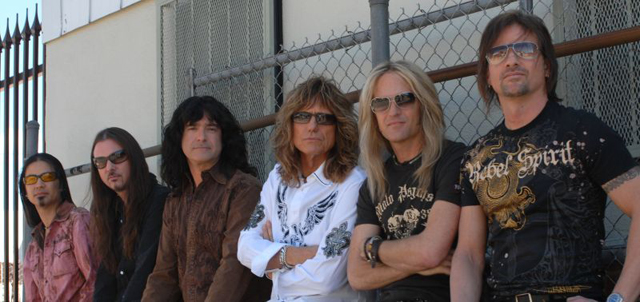 Judas Priest
The Jersey crowd's excitement was understandable as all awaited the curtain to fall which read "Welcome To The Home of British Steel". Priest unleashed full throttle into the "British Steel" album with 'Rapid Fire', instantly sending a heavy metal shock wave into the crowd causing an eruption of screams and singing. Hearing "British Steel" in its entirety was a very nice treat since Priest rarely, if ever, play 'The Rage', 'Steeler', 'You Don't Have To Be Old To Be Wise', and 'Rapid Fire'.
By this point, after reuniting in 2004 with continued touring for 05's "Angel of Retribution" and "Nostradamus" in 2008, guitarists KK Downing and Glenn Tipton, bassist Ian Hill, and Scott Travis on the drums may just be at their best. KK and Glen coming together for the lead harmonies in 'Prophecy' is genius.
Halford was favoring his mid range conserving energy for those classics screams during 'The Ripper' and 'Victim of Changes' which is fine, but his problem continues to be a poor stage presence. 80% of his time I'd say is spent nailed to the floor center stage right in front of his teleprompter and when he does move its rather robotic. Just look at my pictures, I kid you not. One of the few times Rob became mobile to have some interaction with his bandmates and crowd was during 'The Ripper'. Even for 'Freewheel Burning' after emerging on the motorcycle he remained attached to his ride. Sorry guys, I love Halford as much as the next metalhead but its gotta be said.
Apparently Priest's next move is to perform "Nostradamus" in its entirety. Sounds interesting but I think it would be even cooler if they did "Sad Wings of Destiny", "Hell Bent For Leather", or "Defenders of the Faith" in their entirety. Or how about "Unleashed in the East".???