Testament:

Over The Wall
The New Order
Practice What You Preach
Souls of Black
More Than Meets The Eye
The Formation of Damnation

Motorhead:

Dr. Rock
Stay Clean
Be My Baby
The Killers
Metropolis
Over The Top
In The Name Of Tragedy
Just 'Cos You Got The Power
Going To Brazil
Killed By Death
Ace Of Spades
Overkill
Heaven And Hell:

E5150
The Mob Rules
Children of the Sea
I
Sign of the Southern Cross
Vinny Appice Solo
Time Machine
Falling off the Edge of the World
Tony Iommi Solo
Die Young
Heaven and Hell (extended)

Judas Priest:

Dawn Of Creation
Prophecy
Metal Gods
Eat Me Alive
Between The Hammer And The Anvil
Devil's Child
Breaking The Law
Hell Patrol
Dissident Aggressor
Angel
The Hellion/ Electric Eye
Rock Hard, Ride Free
Painkiller
Hell Bent For Leather
The Green Manalishi
You've Got Another Thing Coming

---
The aptly titled Metal Masters Tour (I really wish Iron Maiden were included) features four architects from Heavy Metal's history. Black Sabbath (also known as Heaven and Hell) really created the blue print, Priest forged the heavy metal style and sound into steel, Motorhead gave the music rawness and speed, and Testament upped the anti for force and technicality.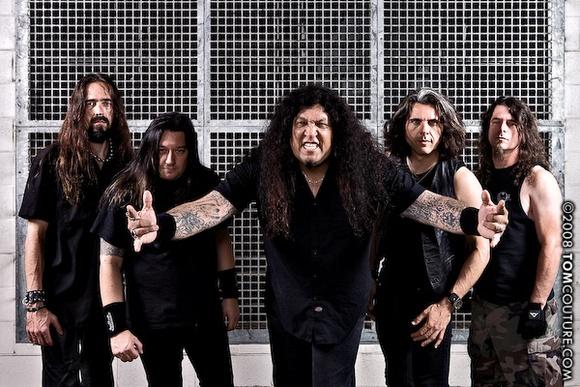 Testament are out supporting their latest release "The Formation of Damnation" and celebrating the reformation of the classic line up which includes long standing members Chuck Billy on vocals and Eric Peterson on rhythm guitar rejoined by guitar virtuoso Alex Skolnick and bassist Greg Christian with Paul Bostaph who is no stranger to thrash on drums. Unfortunately the band only had thirty minutes but it was fulfilling none the less. The audience (which from what I could tell had plenty of young faces in it) were taught how to go "Over the Wall" and "Into the Pit", and what it really means to "Practice What You Preach". Two from the latest album made it into the set, one being the crushing title track and the galloping "More Than Meets The Eye".
Testament Signing at Vintage Vinyl
Testament Live at PNC Banks Arts Center
---
Motorhead, from England, are lead by the spirited bar room brawler Lemmy Kilmister (vocals and bass) who is like rock's poster boy for what Fuck You! stands for, guitarist Phil Cambell joined the band for 1984's "No Remorse" and Mikkey Dee in 1992 for "March or Die". From the band's inception in the mid seventies, their sound and style has been a simple formula of a dirty speed/rock/metal geared to the biker in all of us with a take no prisoners attitude.
Tonight's set (and bare bones stage show) included the classics "Overkill" and "Ace of Spades", "Over the Top" from the "Bomber" album, Dr. Rock" from 1986's "Orgasmatron", to In "The Name Of Tragedy" from 2004's "Inferno".
As I socialized, I recall them playing one song from their forthcoming release "Motorizer", called "Rock Out", which will be released on August 26th here in the USA. 
---
Black Sabbath (also known as Heaven and Hell for this lineup's recent reformation) are currently touring in support of their box set titled "The Rules of Hell" which features all four of the albums Ronnie Dio sang on, as well as last year's release 'The Dio Years" collection.

This is MK II for Black Sabbath with Ronnie James Dio on vocals, riff master Tony Iommi, Geezer Butler on bass, and Vinny Appice on drums, the lineup that recorded the classic albums "Heaven and Hell" from 1980 and "Mob Rules" in 1981.

The Metal Masters Tour is my second time seeing this incarnation of Sabbath and I can tell you it is easily my favorite. The material recorded on the above mentioned albums, along with 1992's "Dehumanizer", is the band's heaviest. Tonight's abbreviated set ("Neon Knights" was cut do to time) featured three classics from the album "Heaven and Hell"; "Die Young", "Children of the Sea", and the title track which is as legendary as the band's namesake song with Ozzy on vocals. Dynamic numbers like "The Sign of the Southern Cross" and "Falling Off The Edge of the World" come from "Mob Rules".

As I took pictures at the barricade, Mr. Iommi's monster metal riffs and Geezer's accompanying beefy bass, Vinny's pounding drums, with Ronnie's soaring stellar vocals, washed over me like a sonic metallic wave causing the hairs on my arms to stand on end. Songs like the monolith "I" and "Time Machine" showed that time has not at all diluted the heaviness, or class, that rings forth from the songs recorded by this group of musicians. I am sure Ronnie, Tony and Geezer (Vinny I think is a few years younger) must be in their late fifties early sixties and you would never know it. Age is but a number and at this stage of the game Sabbath are just seasoned pros at what they do.

The stage show was excellent (see my pictures) as the backdrop was painted to be a metal wall, two pillars (to the right and left of the drum kit) had a giant hand rising out of each holding a sphere as gargoyles were perched in three dimensional fabricated trees (and boy did they look fantastic lit).

Black Sabbath's (Heaven and Hell) next move will be a new album with this lineup to be released sometime in 2009. My question is which name will they go under for the album? I hope for continuity's sake their name remains Black Sabbath.
Black Sabbath Signing at Vintage Vinyl
Black Sabbath Live at PNC Bank Arts Center
---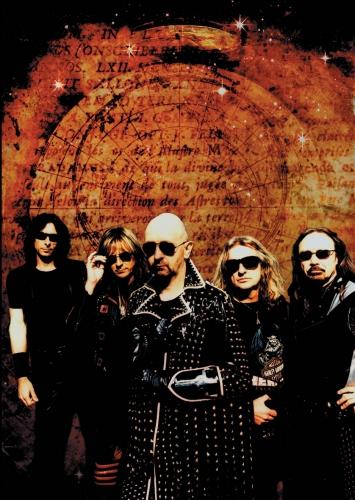 Judas Priest are out supporting their latest release "Nostradamus", an epic two disc concept album. In 2008, the Priest lineup features the celebrated foursome that recorded classic albums like "Sad Wings of Destiny" (1976), "Stained Class" (1978), "British Steel" (1980), "Unleashed in the East" (1979), and "Defenders of the Faith" (1984) with Rob Halford at the mic, the guitar duo of KK Downing and Glenn Tipton, Ian Hill on bass, and long time drummer Scott Travis from 1990's molten metal slab "Painkiller".

Priest opened their set with two from "Nostradamus"; intro "Dawn of Creation" and the album's lead off rocker "Prophecy".

Nostradamus' face graced the back drop as Rob Halford emerged atop the stage removed from the rest of the band's performance in a theatrical fashion with a red cloak like the Phantom of the Opera. The setlist staple "Metal Gods" followed with "Eat Me Alive", "Between the Hammer and the Anvil", "Dissident Aggressor", "Rock Hard Ride Free", and "Devil's Child" all excellent choices to dust off for this tour. Really I wish more bands would do this and rotate several, hell even half their songs, in and out of their set every time they tour. I know I get tired of hearing the same songs over and over again. My thought is way bother recording it if it is not good enough to play live.

Musically, Priest was very tight and delivered the goods on all accounts. They usually do. KK and Glenn are like musical twins who know what their brother will do before they even do it and the unsung rhythm section of Ian and Scott provide all that is needed for these classic metal anthems. Rob Halford while sang good (his delivery of "Painkiller" really emphasizes how heavy that song still is) and his voice projected well and sounded strong, in recent years has been doing something in performance which bothers me. More than half of the time he is singing, mostly for the verses, Rob's body is hunched over looked down at the ground as if he dropped a quarter. For the most part he looks up for each chorus and makes some eye contact with his audience, but the rest of the time he is really removed from his band and fans. He does interact with his audience in between songs pumping them up but not often enough during the show. I find this behavior strange and distracting in contrast to the rest of the band members. Maybe some of it is part of the performance?

Overall, after thirty years of making records Judas Priest are still cranking out the metal strong. "Nostradamus" is a different chapter in Priest's history and should be given a listen.