Winger/Jersey Syndicate/BlakJak


Date: 02/03/07
Venue: The Stone Pony, Asbury Park, NJ
Reviewed By: Rich Catino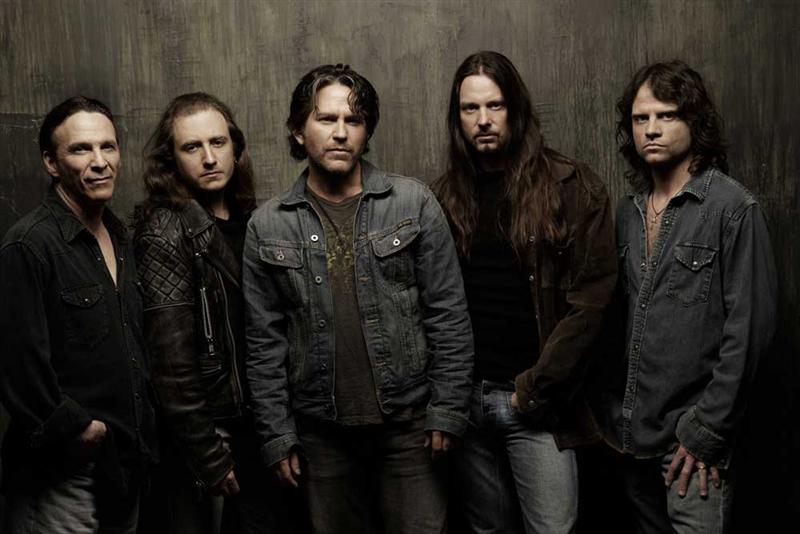 Winger Setlist:

Blind Revolution Mad
Loosen Up
Great Escape
Can't Get Enough
Headed For A Heartbreak
Right Up Ahead
Easy Come Easy Go
Down Incognito
Rainbow In the Rose
Generica
Junkyard Dog
Seventeen
You Are The Saint, I Am the Sinner
Miles Away
Who's The One
Madalaine


Openers for Winger at the Pony was a relatively new band from Jersey called BlakJak. I think they are around two years old and already have made their way to west coast to play the famous Whiskey in LA. Offering a mix of bluesy hard rock with Black Label Society influenced grit the guys bring both a sense of style and attitude to the stage as bass player Mike wears a cowboy hat, singer Todd Knowlden in dress and voice brings a nod to Jeff Keith from Tesla, and shirtless Steve on the drums is like a young Tommy Lee (Motley Crue) with the same amount of energy and showmanship. Their set was a mix of originals and covers including opener "For Whom the Bell" by Metallica which definitely could have benefited with a second guitarist, Motley Crue's "Smokin in the Boys Room", "Born to be Wild" by Steppenwolf, and "Dirty Deeds" by AC/DC that saw an appearance by Jack Frost of Seven Witches/Bronx Casket Co. for a rockin rendition which the crowd reacted to and enjoyed. www.blakjakrock.com

Jersey Syndicate followed and really why were they on the bill? This was a hard rock show and these guys had no edge at all. It was rock with female vocals but nothing that would warrant them to be on a bill going on before Winger. Really not a good warm up choice or maybe people under estimated Winger? These guys are just not in the same vein as the rest of the bill.

Winger has definitely sustained extensive damage throughout the years given all the Beavis and Butthead and "Hair Metal" bashing since the genre started receiving its criticism in the mid 90's, and unfortunately to this day. There are great bands from that genre, it was the over population and rise of clones that diluted its credibility and longevity. Any person who has taken the time to listen to their third release "Pull" will hear and learn that "Seventeen" was one single and ballads were not a basis to all their music and not a reason to judge an entire band's body of work from. If that's the case then you are just ignorant.

Last time Winger came through town in Oct 2002 was when the original line of Kip Winger on vocals/ bass, Paul Taylor on guitar and keyboards, Reb Beach on lead guitar, third guitarist John Roth who first appeared on the "Pull" recording, and drummer Rod Morgenstein reformed to do some dates and also be part of the Poison/Cinderella summer tour. When I saw them then they were great and having three guitarists really made the music heavier. And Kip even to this day does not dance around doing ballet kicks as he did in the eighties. That was then, this is now.

For this run of dates in support of their newest album "IV" Paul Taylor is not with them and Kip handles keyboard duties. The new record "IV" in style and sound is similar to "Pull", mostly written and arranged by Kip according to my interview with Reb, also keeps their trademark catchiness heard from riffs like "Seventeen" for a track like "Great Escape" but more thought provoking topically, more dynamics and less predictability musically.

Poppy lyrics are gone and replaced by more adult topics which was a part of the band's growth when "Pull" was released. Kip continues to write more like an artist and lees like an 80's partier but he and Reb do keep in mind what made them successful to begin with, melodic vocals and songwriting.

In 07 in appearance, as you can see by the promo shot included, and sound Winger is harder and live with "Junkyard Dog", "Can't Get Enough", "Blind Revolution Mad", "Loosen Up", and "Madalaine" as proof in the pudding. They are also more progressive heard on songs like "You are the Saint". The crowd did at times seem a bit taken back by their edginess and did a lot of watching instead of reacting. They played the hit ballads "Miles Away" and "Headed for a Heartbreak" which is just fine and why not, they are good songs. You can't deny a good song even if it's a ballad and who cares if its from the 80s. Man I can't believe I still have to defend this sound from the 80's but someone has to educate. "Seventeen" eehh I can do without.

As far as players live they are tight. Rod on drums is an Associate Professor of Percussion at Berklee College of Music in Boston and Kip writes and composes for various artists and for film I have seen Reb Beach perform with Winger, Dokken and Whitesnake, and in all three bands he is flawless and effortless in his playing. He is really an underrated and talented chameleon like player.

Give their music a chance and do check out "Pull" and their latest "IV".